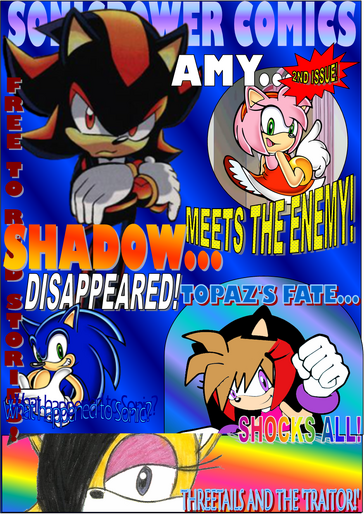 This is the second issue in the ongoing series of comics.
Key Events
Edit
Shadow disappears in Mephiles' glow
Amy bumps into Talveda
Threetails finds out about the traitor
Topaz dies
Shadow and Threetails find love
At the start of the story, Shadow is battling Mephiles. Mephiles flees by creating a glow, but Shadow gets caught in it. He disappears, worrying everybody else about him. Meanwhile, Amy meets Talveda, and Talveda tries to kill her. Amy is rescued by a blur (which was not Sonic), which is an unknown blur. Also, Threetails manages to find out who helped Talveda with her power burst, and that person was... Topaz! Or so it was thought. Topaz later found out Threetails thought this, so Topaz killed herself. Knuckles, Tiara, Mina, Honey, NICOLE witnessed this, and they were shocked with the results. Later, Shadow returns and meets up with Threetails. Shadow is glad to see her, and shyly kisses her. Threetails is gobsmacked, and Shadow takes her hand and they both find love with each other. At the end of the story, Topaz and Tikal are standing outside, watching them...
Editorial Commentary
Edit
WHAT IS HAPPENING?! Didn't Topaz die? What was she doing with Tikal outside, watching the happy Shadow and Threetails? This is strange, isn't it? What would you say about this? Leave em below! But now that Shadow believes that he was meant for Threetails, does this mean they are together as a couple? Yes it does!! This is fabulous!

Opinions or Questions
Edit
THIS IS FOR YOUR GUESSES OR OPINIONS ON THE STORY'S EVENTS, PLEASE LEAVE A SIGNATURE!
I can't spoil it for ya, but yeah.

♥Topaz the Hedgehog♥

08:39, April 16, 2012 (UTC)