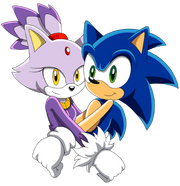 SonAze is the romantic relationship between Sonic the Hedgehog and Blaze the Cat.
Fanfics for
Supporters
Yeah buddy! Eat that, SonAze haters!! >:D Ponies! They're awesome! 00:01, July 23, 2012 (UTC)
HECKZ YEA MAN!
I support both Sonaze and Sonally. GO SONAZE! Sonally and Sonaze Fan Forever 09:18, August 17, 2012 (UTC)
Ding,ding,ding!No matter what,I WILL support this!~Cyclonestar
Best game pairing in my opinion. Great chemistry. Silver is more like a younger brother to Blaze. --MaskedKitsune (talk) 06:51, March 6, 2014 (UTC)
Neutral
Well, its not horrible. Sure, they met in Sonic Rush and its sequel, but I don't find them as a couple. I find them more as friends. N X Hilda 14:42, August 26, 2012 (UTC)
I kind of like this one... :) ~Catswolves4life
Haters
-(Bill The Smart Guy 2005) 14:57 PM Monday, February 20th 2017
Gallery
Community content is available under
CC-BY-SA
unless otherwise noted.